High Density Steel Briquettes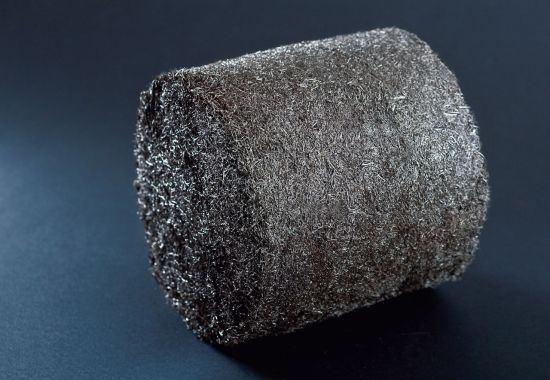 Finally... heavy industry is getting environment-friendly!
High Density Steel Briquettes are environmental-friendly products which entirely consist of tire wire. Their biggest advantage is that they contain raw material in maximally concentrated form and that they do not destroy the environment. Due to their form they are easy to use and transport so they simplify and modernise the production process.
| | |
| --- | --- |
| Melting temperature | up to 1400°C |
| Height | 15 - 20 centimetres |
| Diameter | 18/19,5 centimetres |
| Weight | 13 - 25 kilograms |
WHAT IS IT?
HDSB Briquette is a preparation for steel and iron alloying in smelting industry.
WHAT IS IT MADE OF?
HDSB Briquette is all about recycling. It consists of recycled tire wire which is pressed so as to obtain regular blocks which are easier to use.
HOW DOES IT WORK?
Recycled tire wire is a precious feedstock as it is rich in steel. Steel has been used in metallurgy industry for ages, but it has never been presented in such form. High Density Steel Briquettes are like magic pills which you put into oven to get the most delicious baking possible. It is used as a forge charge because its form is better in use that it is in case of pieces of steel. By using High Density Steel Briquettes, one can get the best grade of steel in easier way.
WHY IS IT BETTER THAN ANYTHING ELSE?
HDSB Briquette is SMALLER than a classic piece of steel.
Tire wire is no more wasted. It is all about RECYCLING.
For the first time heavy industry does NOT DESTROY THE NATURE.
HDSB Briquettes can be USED IN MULTIPLE WAYS.
It contains MORE STEEL in smaller form.
Work becomes EASIER and FASTER.
It is ECO-FRIENDLY.
It SAVES TIME.
It is SIMPLE.
Contact Us
Do you have any questions or need a quote? Send the form below. We will respond within 48 hours.