Ferroalloys Briquettes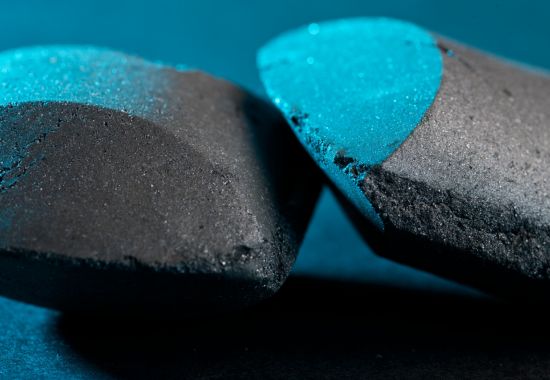 WHEN TRADITIONAL WAYS ARE NOT ENOUGH...
Our offer includes specially prepared (in cooperation with Polish and Czech foundries) briquettes used for steel and iron alloying in smelting industry. Ferroalloys Briquettes have various applications, from acting as an addition in steel melts to being used in electric furnance and secondary metallurgy industry. Briquettes can be composed according to customer's needs. Their small size and regular shape makes them very practical and easy to transport, hence the production process becomes easier and faster.
| | |
| --- | --- |
| Melting temperature | up to 1400°C |
| Height | 55 milimetres |
| Lenght | 65 milimetres |
| Weight | 140 grams |
WHAT IS IT?
Ferroalloys Briquette is an ennobling additive to high-grade steel.
WHAT IS IT MADE OF?
Ferroalloys Briquette consists of iron and silicon in special proportions.
HOW DOES IT WORK?
A perfect combination of proper raw materials and small size makes Ferroalloys briquettes the perfect solution for steel production. They are added to high-grade steel so as to make the richest mixture possible. Their small and regular shape makes them easy to transport and dose. Ferroalloys briquettes are practical - they save time and make work easier.
WHY IS IT BETTER THAN ANYTHING ELSE?
Ferroalloys briquettes are SMALL what makes them EASY TO TRANSPORT.
They can be dosed, hence SIMPLIFY PRODUCTION.
A briquette can be composed according to customer's needs so
YOU GET WHAT YOU WANT.
It contains PURE RAW MATERIAL in CAPSULAR FORM.
Work becomes EASIER and FASTER.
It SAVES TIME.
It is SIMPLE.
Contact Us
Do you have any questions or need a quote? Send the form below. We will respond within 48 hours.